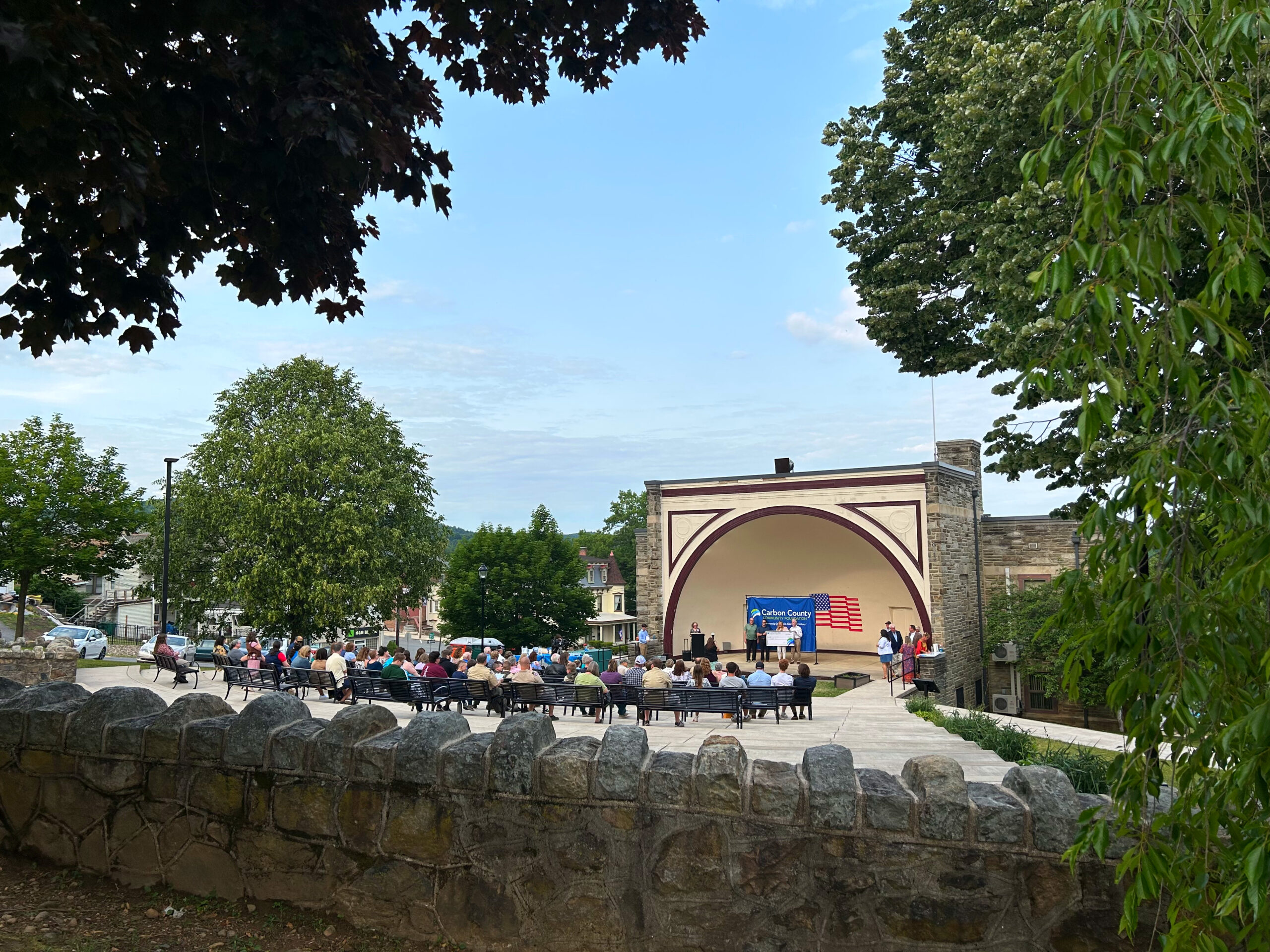 At an awards ceremony on Thursday, June 15th, the Carbon County Community Foundation presented more than $65,000 in grants and scholarships to nonprofit organizations, community groups, educators, and students in the region.
Representatives from the Foundation and nearly 40 different community groups gathered in Lehighton Borough Park for the celebration.  The grants presented bring the Community Foundation's total giving to more than $830,000 since the organization was established in 2015.
"This is an incredible achievement for Carbon County that I am so proud of," said Sharon Alexander, CCCF President.  "None of this would have been possible if not for the generous donors in our community who care about the region and entrust the Foundation with their contributions."
A majority of the grants were distributed from the Foundation's Fund for Carbon County, a permanent endowment established to award grants that address the critical needs of today and for generations to come.  Grants from the Fund for Carbon County supported a variety of organizations and projects across the county, including food pantries and shelters; cancer support programming throughout the county; improvements within Dimmick Memorial Library's Penn Kidder location; and new safety and medical equipment for the Citizens Fire Company in Weatherly, PA.
Additional grants were awarded from the Penny Allison Early Childhood Fund, which provides micro-grants to educators and organizations offering early childhood education services; the Scouting Support Fund, which provides campership and program support for area boy and girl scout troops; the Educational Improvement Tax Credit Fund; and several Donor-Advised Funds.  Eleven graduating high school seniors from the area were also recognized for their accomplishments and were awarded scholarships from the following: Anastasia Susko Memorial Scholarship Fund, the Orioles Scouting Scholarship Fund, the Tyler Strong Memorial Scholarship Fund, Glenn Eisenhower Memorial Scholarship Fund, Eugene "Peck" Armbruster Memorial Scholarship Fund, D&P Hawk Scholarship Fund, Susan J Tisiker Memorial Scholarship Fund, and Hunter's Heroes Memorial Scholarship Fund.
The following grants were awarded from various funds this cycle:
| | | | |
| --- | --- | --- | --- |
| Fund | Grantee | Amount | Purpose |
| Fund for Carbon County | ARTisaSHIP | $2,000 | Silver Social Club |
| Fund for Carbon County | Boy Scouts Minsi Trails Council | $1,000 | Campership for Carbon County |
| Fund for Carbon County | Cancer Support Community of the Greater Lehigh Valley | $1,000 | Cancer Support Programming in Carbon County |
| Fund for Carbon County | CareNet Carbon County | $1,000 | BrightCourse Program |
| Fund for Carbon County | Citizens Fire Company #1, Weatherly PA | $5,000 | Equipment |
| Fund for Carbon County | Dimmick Memorial Library | $1,500 | Bookshelves for Program Space |
| Fund for Carbon County | Family Promise Carbon County | $1,500 | Shelter Food Storage |
| Fund for Carbon County | Friends Helping Neighbors Fund | $1,000 | Weekly Food Pantry |
| Fund for Carbon County | New Beginnings Womens Center | $2,000 | Women/Children Shelter Support |
| Fund for Carbon County | Penn Kidder Ministerium After School Program | $2,000 | Childcare Scholarship & Financial Aid |
| Fund for Carbon County | Valley Royale Foundation | $600 | Tennis Club for Kids |
| Educational Improvement Tax Credit (EITC) Fund | Carbon Career & Technical Institute | $5,000 | Non-Traditional Summer Camp |
| Educational Improvement Tax Credit (EITC) Fund | Panther Valley School District | $5,000 | STEAM MakerSpace |
| Joseph & Debra Kay Bennett Fund | Lehigh Valley Children's Centers | $2,000 | Summer Enrichment Programs |
| Joseph & Debra Kay Bennett Fund | Wildlands Conservancy | $500 | Walk My Watershed at Panther Valley |
| Nothstein Hometown Proud Support Fund | Palmerton Booster Club | $1,000 | Equipment for Football Team |
| Quiet Hills Lavender Farm & Agriculture Fund | Bach & Handel Chorale | $1,000 | Orchestra Accompaniement for a Concert |
| Joseph & Debra Kay Bennett Fund | Wildlands Conservancy | $1,000 | Promotion of the Lehigh River Water Trail |
| Scouting for Support Fund | Cub Scout Pack 63 | $500 | Akelaland Summer Resident Camp |
| Scouting for Support Fund | Boy Scout Troop 145 | $250 | Summer Camp |
| Scouting for Support Fund | Boy Scout Troop 209 | $500 | High Adventure Trip |
| Scouting for Support Fund | Girl Scout Troop 3102 | $50 | Summer Camp |
| Scouting for Support Fund | Girl Scout Troop 30137 | $450 | Summer Camp |
| Scouting for Support Fund | Girl Scout Troop 30903 | $250 | Summer Camp |
| Penny Allison Early Childhood Fund | Jack & Jill Preschool | $600 | PreK Activity Tables |
| Penny Allison Early Childhood Fund | Lehighton Area Memorial Library | $600 | SenseSational Storytime |
| Penny Allison Early Childhood Fund | Lehigh Valley Children's Centers | $600 | Summer Program Enrichment Activities |
| Penny Allison Early Childhood Fund | Penn Kidder Ministerium After School Program | $600 | PKMASP Scholarship & Financial Assistance Program |
| Penny Allison Early Chlidhood Fund | LB Morris/Jodi McAndrew | $600 | Books for Students |
| Penny Allison Early Childhood Fund | LB Morris/Shawn Bierman | $600 | At Home Learning Bags |
| Penny Allison Early Childhood Fund | Penn Kidder/Korin Strohl | $600 | Multisensory Opportunity for Building Foundational Literacy Skills |
| Penny Allison Early Childhood Fund | Panther Valley/Kara Krajnak | $600 | Book Into Students' Hands |
| Penny Allison Early Childhood Fund | Panther Valley/Tori Koerbler | $600 | Science Curriculum for 3rd Grade & One Book Per Month to Keep |
| Penny Allison Early Childhood Fund | Weatherly/Christine Peiser | $600 | PreK Counts Program |
| Anastasia Susko Memorial Scholarship Fund | Carlie Garner, Jim Thorpe | $1,500 | Scholarship |
| D&P Hawk Scholarship Fund | Faith Yeakel, Lehighton | $5,000 | Scholarship |
| D&P Hawk Scholarship Fund | Josiah Kimmel, Lehighton | $5,000 | Scholarship |
| Eugene "Peck" Armbruster Memorial Scholarship Fund | Samantha Nametko, CCTI | $500 | Scholarship |
| Glenn Eisenhower Memorial Scholarship Fund | Samantha Nemetko, CCTI | $500 | Scholarship |
| Hunter's Heroes Memorial Scholarship Fund | Lauren LeKites, Jim Thorpe | $500 | Scholarship |
| Keys to Your Future Award Fund | Daniel Lucykanish, Palmerton | $500 | Scholarship |
| Orioles Scouting Scholarship Fund | Nathan Holmberg, Lehighton | $500 | Scholarship |
| Orioles Scouting Scholarship Fund | Trevor Napoli, Jim Thorpe | $500 | Scholarship |
| Susan J Tisiker Memorial Scholarship Fund | Natalie Mosier, Palmerton | $2,000 | Scholarship |
| Tyler Strong Memorial Scholarship Fund | Ryan Bailor, Jim Thorpe | $500 | Scholarship |
Photos from the 2023 Awards Celebration