NEPA Gives is a 24-hour giving extravaganza that's all about giving back to your community. Now in its third year, this one-day giving event is the largest of its kind in Northeast Pennsylvania.
On the first Friday in June, donors make secure donations online to their favorite local nonprofit organizations.  Donations to participating nonprofits are enhanced with bonus funds and incentives provided by NEPA Gives sponsors – making donations stretch even further!  In 2021, more than 200 organizations participated in NEPA Gives, raising $1.3 million from 5,000 donors in just one day!
Registered 501c3 organizations serving residents in Northeast Pennsylvania are eligible to participate in NEPA Gives.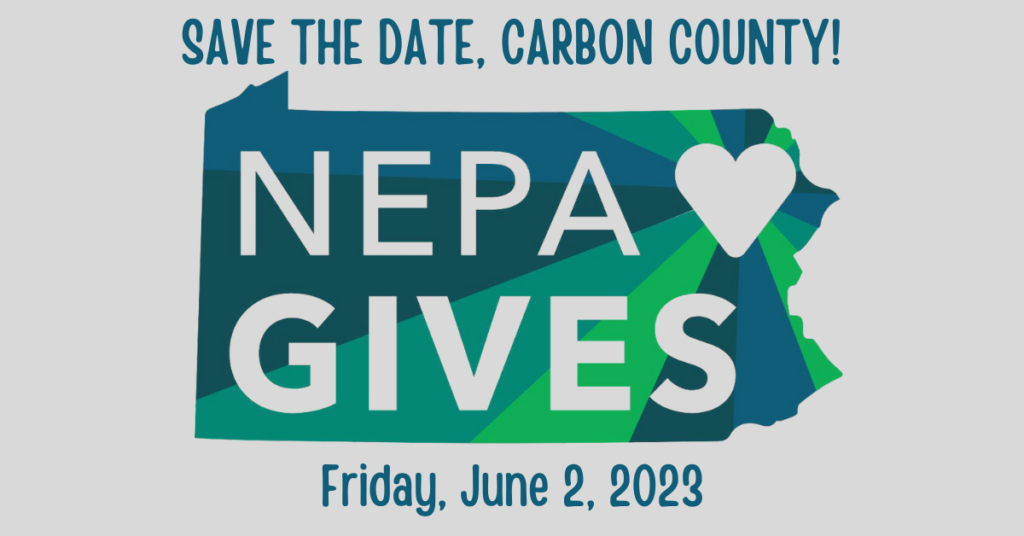 NEPA Gives 2022 will take place on Friday, June 2nd.
Learn how you can participate – either as a nonprofit or a donor – below.
Nonprofit Organizations & NEPA Gives
Registered 501c3 organizations that serve residents of Northeast Pennsylvania are eligible to participate in and receive donations through NEPA Gives 2023.  When registration opens for 2023, an authorized representative should register your organization here.  Once registered, you will also need to verify your organization's charitable status and enter your banking information so donations can be transferred to you after the close of NEPA Gives.  Complete your organization's profile and let your supporters know to get ready to donate on June 2nd.  On NEPA Gives day, share, share share, and unlock those incentive prizes!
Leading up to NEPA Gives, we will be hosting kick-off events, trainings, and other sessions to help you get ready to raise money for your organization.  In the meantime, contact the Carbon County Community Foundation at 610-730-2526 or info@cccfoundpa.org or schedule an appointment with CCCF President, Sharon Alexander to ask your questions and learn more.
Thank you for your interest in supporting NEPA Gives 2023!  There are a number of ways you can get involved.
1. Make a donation to your favorite Northeast PA organization through the NEPA Gives website anytime between 12:01 AM – 11:59 PM on June 2, 2023.  Before that day, you can see the list of participating organizations here.  Don't see your favorite organization listed?  Encourage them to register to participate so they can benefit from NEPA Gives too!
2. Support Carbon County nonprofits with a matching gift.  Organizations can unlock these funds throughout the day to help stretch donations even further.  Your matching gift can go into a general fund or you can specify what types of organizations you'd like to support.  Contact Sharon Alexander at 610-730-2526 or director@cccfoundpa.org to learn more.
3. Sign up as an individual fundraiser with a personal goal to support your favorite organization.  Encourage your friends and family to donate to help meet your goal.  Your selected organization can help you get signed up as a fundraiser.
3. Own a business that provides services to the area? Offer an incentive prize that can be unlocked by an organization throughout the day, like free lunch for staff or an advertising or marketing package.  Or team up with your colleagues and sign up as a business fundraiser with an organization goal to support your favorite nonprofit.
4. And finally, volunteer on the NEPA Gives planning committee!  This group helps to promote NEPA Gives to the region, plans events, and helps with a fun thank you program. Contact Sharon Alexander at 610-730-2526 or director@cccfoundpa.org to sign up.
However you choose to participate, THANK YOU for being part of NEPA Gives 2022!!