Founded in 2010, the Interagency and Family Collaborative Board (IFCB) created a community-wide approach to address health and human services issues. This approach has a proven track record of success and to keep pace with change, the IFCB evolved and expanded, which is reflected in our new name: Carbon Collaborative.
In April, we were delighted to host the Human Services Priorities breakfast at the Penn Forest Volunteer Fire Department #1. Over 90 members of the community enjoyed meeting and networking at our first in-person event since 2019.
Our theme was Resilience and we heard inspiring stories from the following community leaders who demonstrated the tenacity and ingenuity needed to succeed during the pandemic:
Lisa Perla, Director of Heritage Hills Senior Community
Jennie Serfass, Manager, Behavioral Health Services and Rural Residency Program, St Luke's
John Rushefski, Superintendent of Jim Thorpe School District
Jill Geissinger, Administrator, Carbon County Children and Youth
One of the high points of the event was the recognition ceremony for Melinda "Mindy" Graver for her service to Carbon County. Mindy is a beacon in the community for dedicated service and advocacy for child safety. Her record of achievements was announced by Carbon County Commissioner Wayne Nothstein and he presented Mindy with a Proclamation of Gratitude signed by the Carbon County Commissioners.
The event was a complete success and we want to thank our sponsors for their generosity.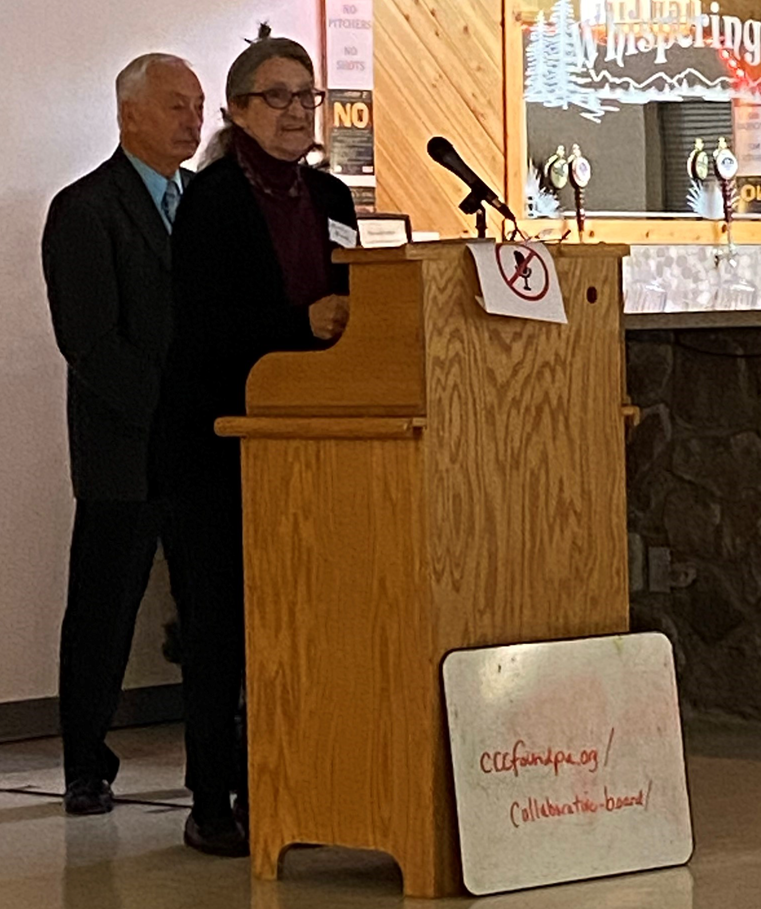 Pictured at podium: Mindy Graver. At rear: Wayne Nothstein
Mr and Mrs Wayne Nothstein
Michael S Greek
PA Area Health Education Center (AHEC) East
AmeriHealth Caritas Northeast

Carbon County Community Foundation
Lehigh Carbon Community College
St Luke's University Health Network
Lehigh Valley Health Network
Pocono Mountains Visitors Bureau
Get more info here
Stay up-to-date on health and human services in Carbon County. Membership is open to qualified partners. Request to join or present at an upcoming meeting by clicking the button below and putting "Carbon Collaborative" in your email's subject line.
2020-21 Officers:
Co-Chair, Wayne Nothstein (Carbon County Commissioner)
Co-Chair, Sue Ziegler (Carbon County Area Agency on Aging)
Vice Chair, Jen Pantella (Community Volunteer)
Co-Secretary, Rosemarie Lister (St Lukes Univ Health Network)
Co-Secretary, Dana Stebelski (St Lukes Univ Health Network)
Treasurer, Cindy Lynd (Eastcentral PA Area Health Ed Center)
2019 State of the Child and Family Report
The Carbon Collaborative biannually compiles a report of data and statistics about Carbon County.
Scheduled Meetings:
Unless noted, all meetings have been moved to a virtual format from 9-10:00am.
November 9, 2022
January 11, 2023
March 8, 2023
May 10, 2023
Please note: To facilitate communication and participation in the Carbon Collaborative, the Carbon County Community Foundation hosts this page for the group. While CCCF supports the Carbon Collaborative's mission, the two organizations are distinct, separate, and not formally affiliated.