Founded in 2010, the Interagency and Family Collaborative Board (IFCB) created a community-wide approach to address health and human services issues. This approach has a proven track record of success and to keep pace with change, the IFCB evolved and expanded, reflected in our new name: Carbon Collaborative.
We are delighted to host the twelfth annual Human Services Priorities Breakfast on Friday, April 21st at the Penn Forest Vol. Fire Co. #1. This year's theme is
LIVE HERE, WORK HERE: KEEP CARBON COUNTY STRONG
Speakers will focus on issues relating to our biggest and brightest employers keeping and filling jobs here and the impact on our community. Doors open at 8:30 AM, Breakfast begins at 9:00 AM. The program will begin promptly at 9:30 AM and will end by noon. Please RSVP to Cindy Lynd via email: clynd@ecpennahec.org or you can register online here. Click here to download and print the Registration form and QR code.
Call for Sponsors
Sponsor donations help offset the cost of the meal and fund future awards to deserving county agencies or community groups that carry out the mission of the Carbon County Collaborative.
• A $50 donor will be listed as a Star Sponsor and receive 1 free meal ticket.
• A $75 donor will be listed as a 2 Star Sponsor and receive 2 free meal tickets.
• A $100 donor will be listed as a 3 Star Sponsor and receive 3 free meal tickets.
We hope you will participate in this opportunity to promote community growth and enrichment by becoming a sponsor. You can register as a sponsor online here. Click here to download and print the Sponsor form and QR code.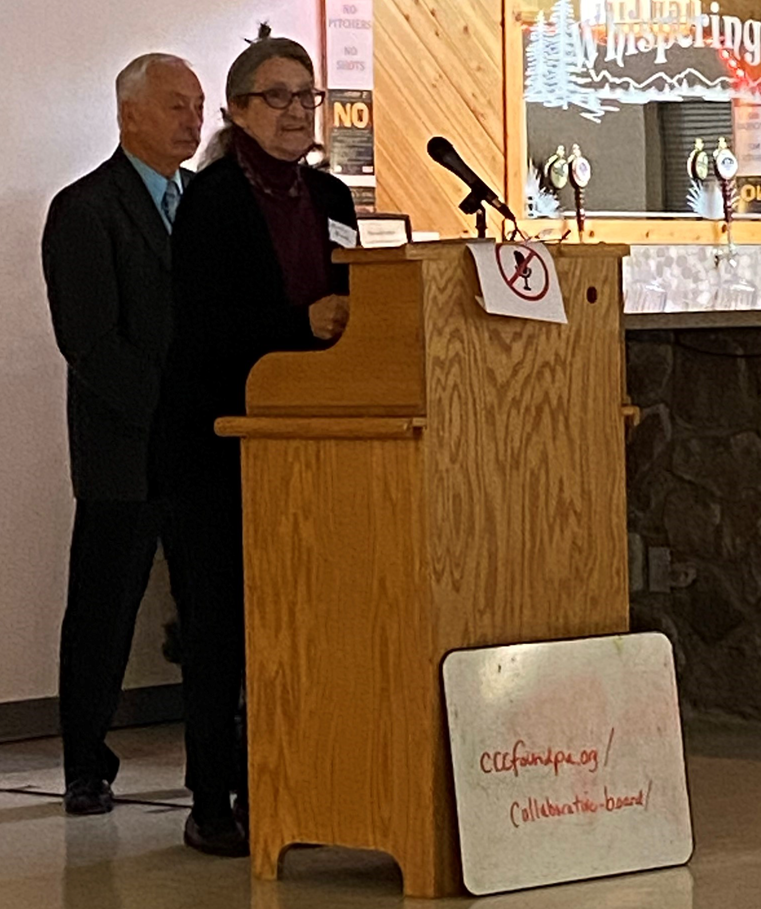 2022 Honoree: Mindy Graver. At rear: Wayne Nothstein
Get more info here
Stay up-to-date on health and human services in Carbon County. Membership is open to qualified partners. Request to join or present at an upcoming meeting by clicking the button below and putting "Carbon Collaborative" in your email's subject line.
2021-22 Officers:
Co-Chair, Wayne Nothstein (Carbon County Commissioner)
Co-Chair, Sue Ziegler (Carbon County Area Agency on Aging)
Vice Chair, Jen Pantella (Community Volunteer)
Secretary, Rosemarie Lister (St Lukes Univ Health Network)
Treasurer, Cindy Lynd (Eastcentral PA Area Health Ed Center)
2019 State of the Child and Family Report
The Carbon Collaborative biannually compiles a report of data and statistics about Carbon County.
Scheduled Meetings:
Unless noted, all meetings have been moved to a virtual format from 9-10:00am.
November 9, 2022
January 11, 2023
May 10, 2023
Please note: To facilitate communication and participation in the Carbon Collaborative, the Carbon County Community Foundation hosts this page for the group. While CCCF supports the Carbon Collaborative's mission, the two organizations are distinct, separate, and not formally affiliated.