Founded in 2010, the Interagency and Family Collaborative Board (IFCB) created a community-wide approach to address health and human services issues. This approach has a proven track record of success, and to keep pace with change, the IFCB evolved and expanded, reflected in our name: Carbon Collaborative. The Collaborative's mission is to collaborate with community partners to improve the quality of life for children and families in Carbon County. The Collaborative meets five times a year. Over 100 Carbon County social service organizations and nonprofit partners are invited, with over 35 attending regularly. This interagency committee identifies gaps, barriers, and opportunities and prioritizes care, education, services, and resources. Subcommittees and initiatives have been formed to build capacity, such as transportation, literacy, early childhood education, and prevention efforts.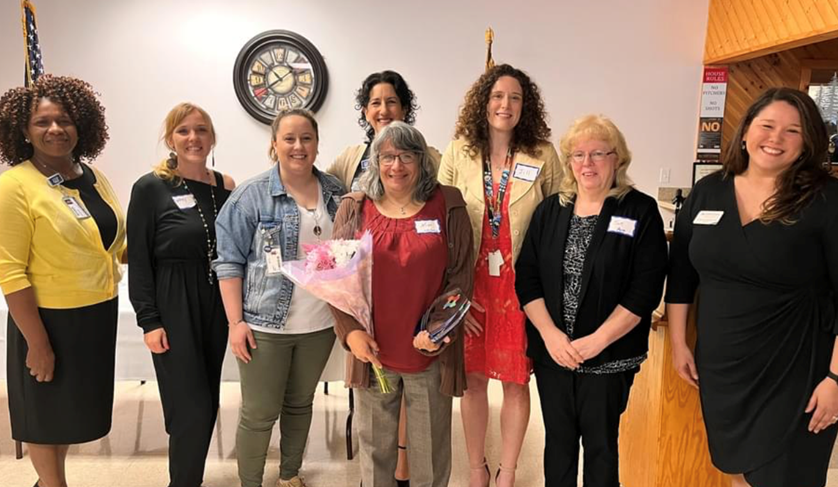 On Friday, April 21, St. Luke's was proud to partner in the Carbon County Collaborative 12th Annual Human Services Priorities Breakfast (download the brochure here). This year's theme was "Live Here, Work Here, Keep Carbon County Strong!" A highlight of the event, is the Excellence in Service Award presented to Kim Whitney (pictured above) for her dedication and commitment to improving the lives of Carbon County children and families. For over 20 years, Kim Whitney has been dedicated to the children and families of Carbon County. Her commitment to PathStone Carbon County Child Development Center has made a difference in the lives of countless children and families to help them achieve their school readiness and personal goals to build a stronger, healthier community. Kim has participated in the Carbon County Collaborative for over 10 years, worked diligently behind the scenes, and participated in other committees when needed.
If you want to learn more and/or join the Collaborative, please email Secretary Rosemarie Lister at rosemarie.lister@sluhn.org.
Mr and Mrs Wayne Nothstein
Rocky Ahner
PA Area Health Education Center (AHEC) East
AmeriHealth Caritas Northeast

Carbon County Community Foundation
Homestead Family Services
Pinebrook Family Answers
St Luke's University Health Network
Donna Gentile
Friends of Dan Ziegler
Lehigh Valley Health Network
PathStone
Pocono Mountains Visitors Bureau
Lehigh Carbon Community College
United Way
Get more info here
Stay up-to-date on health and human services in Carbon County. Membership is open to qualified partners. Request to join or present at an upcoming meeting by clicking the button below and putting "Carbon Collaborative" in your email's subject line.
2023-24 Officers:
Co-Chair, Wayne Nothstein (Carbon County Commissioner)
Co-Chair, Sue Ziegler (Carbon County Area Agency on Aging)
Vice Chair, Jill Geissinger (Carbon County Children and Youth Services Administrator)
Secretary, Rosemarie Lister (St Lukes Univ Health Network)
Treasurer, Cindy Lynd (Eastcentral PA Area Health Ed Center)
2019 State of the Child and Family Report
The Carbon Collaborative biannually compiles a report of data and statistics about Carbon County.
Scheduled Meetings:
Unless noted, all meetings have been moved to a virtual format from 9-10:00am.
January 11, 2023
May 10, 2023
Please note: To facilitate communication and participation in the Carbon Collaborative, the Carbon County Community Foundation hosts this page for the group. While CCCF supports the Carbon Collaborative's mission, the two organizations are distinct, separate, and not formally affiliated.