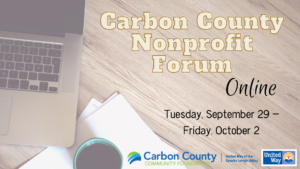 2020 Carbon County Nonprofit Forum
Recordings are now available if you missed the live event or would like a refresher!
Program Descriptions & Presenter Bios:
Sept 29th - "Better Together: Collaboration Through Challenging Times" Opening Keynote
Presented by Marci Lesko, Executive Vice President, United Way of Greater Lehigh Valley
To kick off the 2020 Carbon County Nonprofit Forum in the virtual space after an especially difficult start to the year, this session will cover:
Effective strategies for working together better, smarter, faster
Practical tips on how to break down silos
Examples of collaboration efforts that work
About the Presenter:
Marci Lesko is a strategist, collaborator, facilitator, critical thinker, and agent for systems change. Currently serving as the Executive Vice President at United Way of the Greater Lehigh Valley, Marci helps to propel the $21M organization to success and to foster community growth. Marci's recent expertise extends to United Way's marketing and communications, strategic technology, collective impact community capacity building and leading the organization to model diversity, equity and inclusion. 
Marci's twenty-two year career in human services have offered experiences in public health, victim services, bullying prevention and intervention, juvenile offender mediation, and education reform. Marci supports and nurtures many community change initiatives across the Lehigh Valley and has offered her expertise and time with several state and national endeavors, notably with United Way Worldwide, the Coalition for Community Schools, and FSG's Collective Impact Community of Practice and Funders Forum.
Marci is a proud member of Women United and has won five distinguished awards in her community—The Human Relations Commission (2005), the Donley Award for Children's Advocacy (2016), the Girl Scouts of Eastern Pennsylvania Take the Lead Award (2017), the Community Achievement Award/Lehigh Valley Business Woman of Influence (2018), and the PBS39 Good Neighbor Award (2018).
Sept 30th - "Using Data to Show Impact and Tell Your Story" Panel Discussion
Panelists: Matt Cordes, Owner & Principal Writer, WritingWorks, Ltd.; Rachel DeMicco, Library Programs Administrator, Palmerton Area Library; & Laura McHugh, Associate Vice President of Communications, United Way of Greater Lehigh Valley
Panelists will demonstrate how nonprofit representatives can use hard data to effectively explain their organization's mission and the impact they have on the community.  All Nonprofit Forum registrants will receive a copy of the 2020 Carbon County State of the Child & Family report which is assembled by the Carbon Collaborative every two years with statistics specific to Carbon County.  Panelists will provide specific examples of the ways they are using data in their roles and how attendees can use information from this report within their own organizations.
Oct 1st - "Alternative Fundraising: Pivoting Away from In-Person Events"
Presented by Nonprofit & Community Assistance Center (NCAC)
Stronger nonprofit organizations were moving away from traditional in-person events and diversifying fundraising initiatives long before the covid-19 pandemic happened, now it's your turn to make the switch!  Brought to you by Kurt Bauman, Executive Director of the Nonprofit & Community Assistance Center (NCAC) at NEPA Alliance, this session will provide information and updates on fundraising opportunities that do not rely on in-person events:
Online Giving Days
Annual Appeals/Campaigns
Crowdfunding Options and
Individual/Team Events.
It's about purposefully asking for donations and gifts virtually, not how to turn all your events into virtual options!
About the Presenters:
For the last 30 years, the Nonprofit & Community Assistance Center (NCAC) has been supporting, connecting and inspiring the region's nonprofit organizations through capacity building programs and direct consultations.  NCAC is a 501(c)3 nonprofit affiliate of NEPA Alliance, a regional community and economic development agency, serves the seven counties of Northeastern Pennsylvania including Carbon, Lackawanna, Luzerne, Monroe, Pike, Schuylkill and Wayne. 
Oct 2nd - "Choosing the Path for Racial Equity in the Nonprofit Sector" (Live Session Only - Not Recorded)
Presented by Erica T. Mahady, PhD Candidate, MA, PCC, Organizational Consultant & Executive Coach
This workshop will offer concepts and tools for racial equity and provided participants with an introduction to:
Why we work for racial equity

Exploring visible and invisible indicators of cultural identity

Acknowledging the power of shared language

Structural, institutional and systemic racism and the need to address all areas

Cultural Awareness Self-Assessment checklist

How to use power and influence as an anti-racist ally

Predictable phases of racial equity work

Four organizational development stages toward moving to a culture of anti-racism
Workshop Agenda
Cultural Awareness Self-Assessment Checklist (pre-work)

Structural Racism and Privilege

Being an Actionable Ally

Organizational Development Phases of Equity Work
About the Presenter
As principal of Illumination Consulting Partners, Erica Mahady is a dedicated professional with 15 years of experience as an organizational and leadership development consultant, educator, researcher, author and certified executive coach. Erica partners with business leaders to design and implement strategic change that produces positive results. She has worked across various industries including education, engineering, healthcare, law, media & entertainment, military & government, non-profit and global chemistry.
Erica has a passion for collaborating with individuals, teams and systems to strengthen leadership capacity and organizational effectiveness. Her areas of specialty focus on cultural transformation, strategic planning, leadership and team development, leadership coaching, executive board development, talent management, process consultation, retreat design & facilitation, program administration, emotional intelligence, and diversity, equity & inclusion.
For 10 years, Erica provided consulting and coaching services as a member of an internal organizational effectiveness team at Lehigh Valley Health Network (LVHN) in Allentown, PA. She coached senior to mid-level leaders and consulted to teams on large and small scale change management projects. She was also instrumental in the development and management of the Institute for Healthcare Leadership program for clinical and non-clinical leaders. Her work with physician leaders on system-wide action leadership development was recognized with an achievement award by the Hospital Association of Pennsylvania.
Erica was involved in the development of the SELECT medical education program in collaboration with Lehigh Valley Health Network, the University of South Florida (USF) in Tampa, FL. and Teleos Leadership Institute in Philadelphia, PA. SELECT was one of the first accredited medical education programs in the country that focused on developing leadership competencies and emotional intelligence. She partnered with colleagues to design the curriculum, served as a leadership course director, and provided leadership coaching to medical students and physician faculty while serving in a faculty appointment at the USF Morsani College of Medicine.
In addition to her consulting and coaching practice, Erica holds a faculty appointment teaching graduate courses on leadership and communication at Marywood University in Scranton, PA. She is a member of the American Psychological Association, International Coach Federation, Organizational Development Network and National Communication Association. She enjoys writing for publication and an article she co-authored on developing a culturally competent healthcare network received an award from the American College of Healthcare Executives for its outstanding contribution to healthcare management literature.
Lastly, Erica is a PhD Candidate completing her leadership studies at Alvernia University in Reading, PA. She holds a graduate degree in communication from Marywood University in Scranton, PA. Erica resides in the greater Philadelphia area and appreciates spending time with family, providing service to her community and coaching Girls on the Run—a running and leadership development program for third to sixth grade students.
THANK YOU TO OUR SPONSORS!