A wide variety of local artists will have a chance to show off their stellar work next month.
The Carbon County Creative Arts Fund, will host its third charity art exhibit, sale, and auction, Art with a View, at Blue Mountain Resort from 5:30-8:30 p.m. on May 19th.  Presenting sponsors of the event are local residents, Gary and Bobbi Hayward.
"Blue Mountain is such a beautiful venue to host this event", said Kathy Fallow, founding donor of the Creative Arts Fund. "We were so disappointed when we had to cancel planned shows in 2020 and 2021 due to Covid, but we are back now, with even more artists than ever before, and we are anxious to show off our local talent."
This event has drawn a great turnout from across the county in the past and promises to be a welcomed event after a two-year hiatus.
The event will showcase top artists who live and work in the Carbon County region.  Some of these artists have years of experience, while others are displaying their creations for the first time at this event.  Artwork will be sold as well as offered in a live auction.  
Art presented will be of a variety of mediums, including photography, paintings, jewelry, woodcraft, and various items made from gourds. There will be music and light fare refreshments. A cash bar will be available.
Desha Utsick
Joan Lech
Earlene Russel
Sheri Ryan
Mary Anne Shafer
Lynn Shupp
Jeanne Stemler
Duane Costenbader
Veronica Walck
Jay Davenport
Sarah Binder
Cheryl Popek
Claudia Hill
Linda Christman
Susan DiFluri
Art with a View will also pay tribute to Mary Kocher, soon to celebrate her 101st birthday, for her lifetime achievement in the arts. Mary's paintings grace the halls of many buildings and offices in Carbon county.
Janet Salek, the group's art coordinator, has gathered a number of Mary's paintings from private collections to show at this event, so guests will have an opportunity to view art that they have never seen.
"We've collected 17 of Mary's paintings involving various subjects as well as early works that show the wide range of Mary's art," said Janet.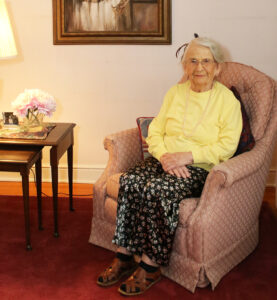 Mary Kocher will be honored at Art with a View this year in celebration and recognition of her lifetime of achievement in the arts.
Tickets and sponsorship opportunities for Art with a View are now available.  Invitations are also being mailed to attendees from prior events.  For more information, please contact the Carbon County Community Foundation at 610-730-2526 or director@cccfoundpa.org.