A new scholarship at the Carbon County Community Foundation will benefit area students in memory of a local teacher and coach.  The Coach Carroll Memorial Scholarship Fund, established by the Lady Panthers Basketball Club, will award four $500 scholarships each year to student athletes who participate in the annual Coach Carroll Classic basketball tournament between Panther Valley and neighboring school districts.
The fund was created in memory of Coach Brian "Har" Carroll, a long-time teacher and basketball coach who passed away in 2022 after a battle with pancreatic cancer.  Carroll taught at McAdoo Catholic before settling into his career as a third-grade teacher at Jim Thorpe School District's Penn-Kidder Campus.  He was a coach at Panther Valley and Jim Thorpe for both boys' and girls' basketball.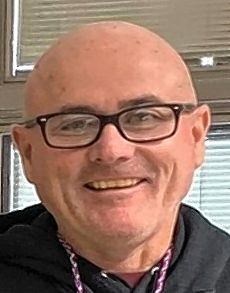 Coach Brian "Har" Carroll
The inaugural recipients of the Coach Carroll Memorial Scholarship are Trey McAndrew and Sera Robin from Panther Valley and Cameron Lewis from Tamaqua.  The recipients were recommended by the teams' coaches.  There was not a graduating senior on the Tamaqua girls' team this year.
The Coach Carroll Classic is an annual event between the Panther Valley boys' and girls' basketball teams and another area school district, with a focus on the schools where Carroll worked as a coach.  The first doubleheader classic was held in February, 2023, between Panther Valley and Tamaqua.  A basket raffle was also held at the event to raise money to establish the scholarship.
"A scholarship fund at the Carbon County Community Foundation is a great way to support future generations while also honoring someone who had such a tremendous and positive impact on so many people," said Sharon Alexander, CCCF President.  "We're honored to host this new fund to help the Panther Valley and surrounding communities remember and celebrate the legacy that Coach Carroll left on his students and teammates."
Community members who would like to donate to the scholarship fund in Carroll's memory can do so by contacting the Carbon County Community Foundation or visiting the Foundation's website.
About Scholarship Funds
Scholarship Funds are generally the most popular type held at a Community Foundation.  These funds support the pursuits of students at different levels of education, and can be established to promote a certain career or industry, acknowledging a special school or community, or honor the memory of loved ones.
Setting up a fund is easy and takes less time than opening a bank account. Donors make a contribution of personal assets (cash, stock, real estate and more) to establish the fund and receive an immediate tax deduction.  Once you name your fund and define the guidelines for scholarship recipients, we will administer the scholarship applications each year and will work with you and a committee to pick the recipients.
If you are interested in learning more about setting up a scholarship or other type of fund at Carbon County Community Foundation, please contact us at 610-730-2526 or director@cccfoundpa.org.