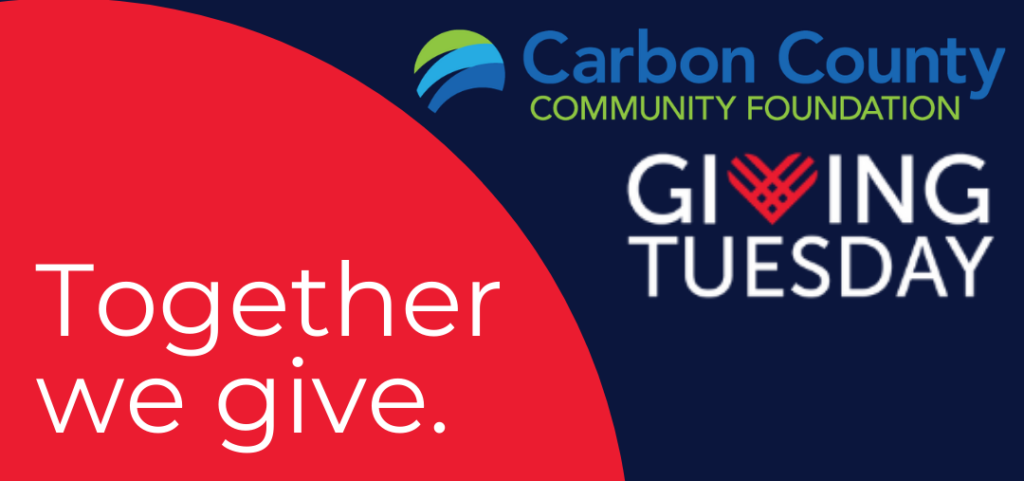 Today is #GivingTuesday!
Right now, people around the globe are coming together: showing kindness and generosity by giving their voices, time, money, goods, and more to support communities and causes.  We invite you to join us today in giving back to Carbon County and the nonprofit organizations who desperately need your support.
How can you give back?
Make a donation to your favorite Carbon County nonprofit organization, either online or by sending a check.
Take up a collection of food for a pantry, books for a library, or toiletries for a shelter.  Make sure you call the organization in advance first to confirm what they can and cannot accept right now due to COVID restrictions.
Call a local nonprofit and see if they have any virtual volunteer opportunities – maybe you can work on a newsletter, write a blog post, or update or proofread documents.
Spread the word!  Post on Facebook, send an email, and tell your friends and family about the organization you are supporting and the great work they do in the community.  Encourage them to join you in giving back this year.
Not Sure Which Organization You Should Support?
You can support multiple organizations with one gift!  Make a contribution to the Fund for Carbon County at the Carbon County Community Foundation.  Through this fund, we make grants to organizations across a variety of impact areas – basic needs, health and human services, arts and education, and environmental projects.  As of June 2020, we have distributed more than $65,000 in grants to Carbon County organizations.  Because of YOU and the grants distributed last year through the Fund for Carbon County:
Cancer Support Community of Greater Lehigh Valley hosted monthly cancer support groups for 56 Carbon County residents as well as various outreach events to educate about cancer prevention.
Family Promise of Carbon County provided a shelter program for 12 adults and 34 children and assisted 8 families in moving to permanent housing.  In addition, Family Promise supported 148 people with food, toiletries, and other household supplies.
Jim Thorpe Rotary Club organized their 24th annual Summer Recreation Program for a record 263 kids.
Lehigh River Stocking Association purchased a Watch-Dog probe to monitor toxic discharges after large rain events and to study water quality.  This provides the first ever continuous water-quality monitoring capability at the Palmerton Superfund site.
Pale Moon Players hosted a production of Disney's Mulan Jr with 45 kids from the Carbon County area for an audience of 500.
Summit Hill Heritage Center provided daily, USDA guideline approved meals for 80 kids in Lansford and Summit Hill in July and August.
and much more!
However you choose to give back this year, know that it goes a long way and makes a real difference for Carbon County!
THANK YOU!