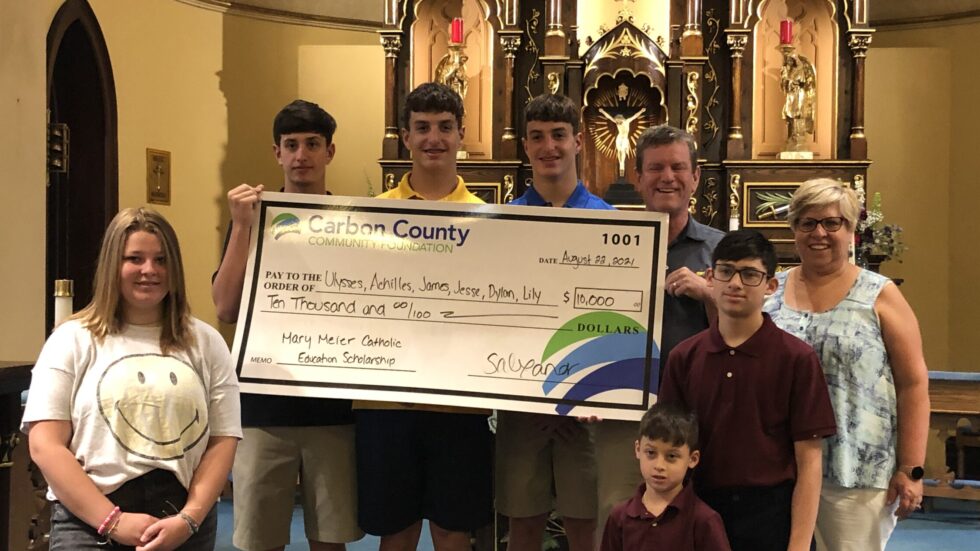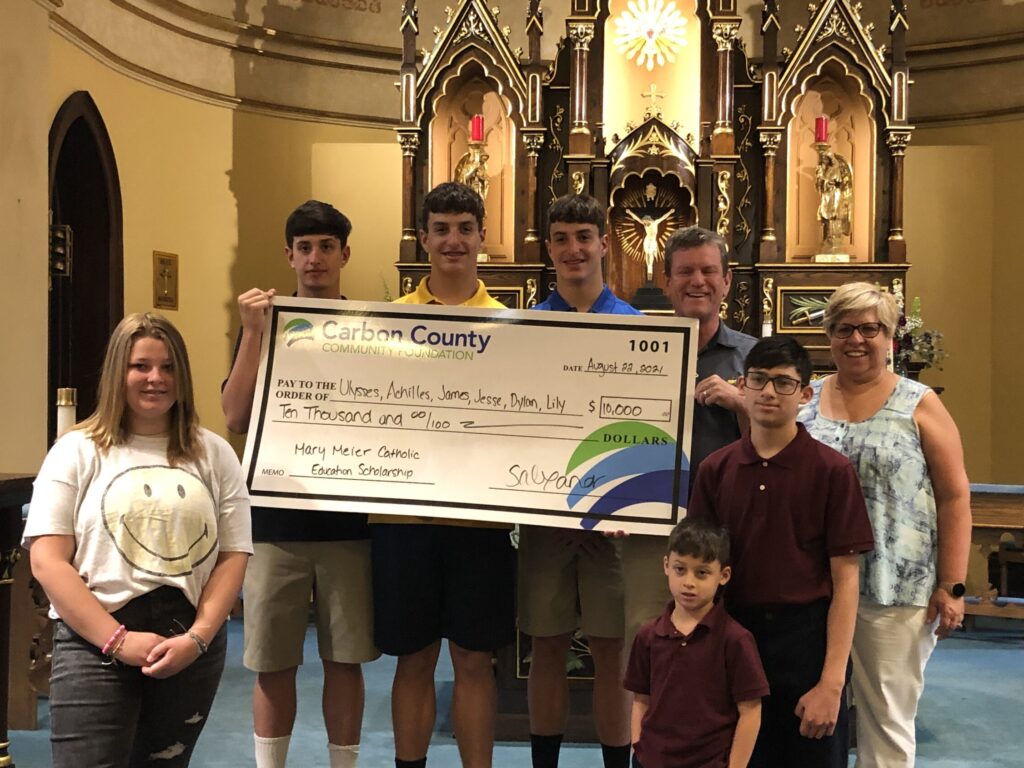 John Meier and his wife, Esther, recently presented tuition scholarships to six area students attending Catholic education institutions.  Pictured L-R: Lily Mantz; Dylan Rodino; James Rodino; Jesse Rodino; John Meier; Esther Meier; Achilles Fitzpatrick; and Ulysses Fitzpatrick.
Six area students were recently awarded tuition scholarships from the Mary Meier Catholic Education Fund at the Carbon County Community Foundation.  The renewable scholarship supports one year of enrollment at a Catholic education institution for students from Carbon County and surrounding areas.
This year's scholarship recipients and the schools they will be attending include Ulysses and Achilles Fitzpatrick, Saint Jerome Regional School; Jesse, James, and Dylan Rodino, Marian Catholic High School; and Lily Mantz, Saint John Neumann School.
The scholarship fund was established by John Meier, of New Ringgold, in memory of his mother, Mary Meier.  Mary was an extremely healthy woman until her 90s when she was diagnosed with dementia.  Despite the diagnosis, she kept her joy and sense of humor to the end.  She was an active member of SS. Peter & Paul Roman Catholic Church in Lehighton, where she served as a Eucharistic Minister and administered communion to many of the parish's homebound and hospitalized members. She was also a member of the parish's Altar & Rosary Society and volunteered on the church cleaning crew.  Before retiring, Mary was a home economics teacher for the Lehighton Area School District.
The scholarship is unlike many others in that it does not require good grades from the student.  Instead, to be eligible for the scholarships, students must be enrolled in a Catholic education institution and must commit to attending church regularly.  The student should be involved in school activities and should serve as a mentor to others on how to be charitable and nice.  
How Do You Establish a Scholarship Fund?
A scholarship fund at the Carbon County Community Foundation supports the pursuits of students at different levels of education. Scholarship funds are set up for a wide variety of reasons, including promoting a certain career or industry, acknowledging a special school or community, or in memory of loved ones. Donors make a contribution to the Community Foundation to establish the fund and receive an immediate tax deduction.
Setting up a fund is easy!