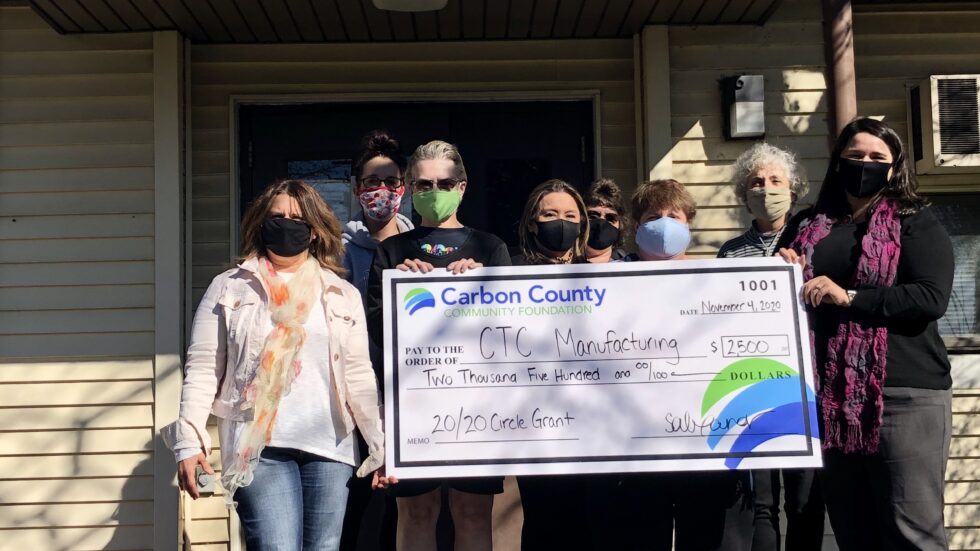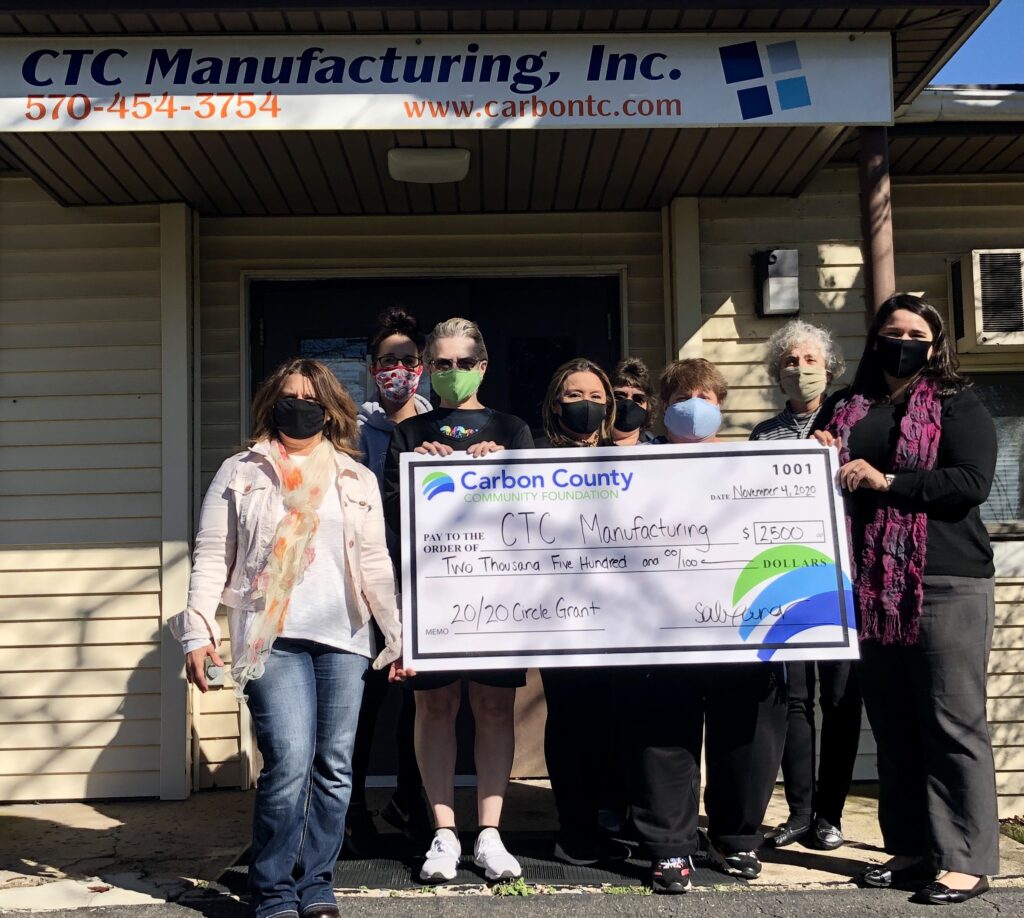 Christine Mayernik, CEO of CTC Manufacturing, and her team members accept a check for $2,500 from the 20/20 Circle at the Carbon County Community Foundation presented by Sharon Alexander, President of CCCF.  The funds represent the first grant from the 20/20 Fund.  Members of the 20/20 Circle selected CTC Manufacturing as the grant recipient out of four finalist organizations at their virtual annual meeting on October 29th.
The 20/20 Circle of the Carbon County Community Foundation held its annual meeting last week to award the first yearly grant to a charity serving Carbon County.  After hearing from four nonprofit organizations via a livestream broadcast, 20/20 Circle members elected to grant $2,500 to CTC Manufacturing, a 501c3 organization providing job training and employment opportunities for adults with disabilities.
CTC Manufacturing has been in existence since 1971 and was still using many of the original workspaces which where handmade with fiberboard.  These tables would not withstand the cleaning and sanitization protocols that are needed to keep employees safe in the wake of the coronavirus pandemic.
The leadership team was committed to bringing their 30 employees back to work after the government mandated shutdowns were lifted but would only do so if they could ensure their health and safety.  They purchased and installed new Formica tabletops across the workshop, replacing the old fiberboard.  The grant from the 20/20 Circle will offset the costs that were incurred by the organization to update these tabletops for their employees.
"We are super thankful for the 20/20 Circle and the Carbon County Community Foundation.  The table-top refinishing project was an absolute must-have to properly sanitize and keep our employees safe!" said Christine Mayernik, CEO of CTC Manufacturing. 
In addition to CTC Manufacturing, the nonprofit organizations who presented to the 20/20 Circle this year were the Cancer Support Community of the Greater Lehigh Valley which is planning to organize a six-week workshop series called, "Comfortable in Your Own Skin" for those affected by a cancer diagnosis in Carbon County; Penn Forest Township Volunteer Fire Company #1, which needs to replace expired meters and equipment that detect hazardous gases and materials; and Raising the House, which is starting a backpack program to provide supplemental food to middle school students in the Palmerton area.  Following the annual meeting, 20/20 Circle members and other individuals were invited to contribute to any of the four finalist organizations through the Fund for Carbon County at the Community Foundation.  The full 20/20 Circle program as well as more information about each nonprofit can be found here.
"The 20/20 Circle is a great example of the spirit of generosity that is so abundant here in Carbon County," said Sharon Alexander, President of the Carbon County Community Foundation.  "Not only were members enthusiastic about CTC Manufacturing and the services they provide, many have also stepped forward to contribute to the organizations who were not selected to receive this year's grant."
The 20/20 Circle is made up of individuals and businesses who work together to pool their philanthropic dollars to increase their impact, year after year.  Members make a one-time contribution of $1,000 to the endowed 20/20 Fund and are invited to an annual meeting to hear from promising charitable organizations in the region. These nonprofits are selected through a competitive application process overseen by a volunteer committee comprised of members of the Circle.  After a brief summary from each nonprofit, members vote and award a grant to support the winning project.  As the 20/20 Fund grows, the annual grant amount will also increase.  Interested community members can learn more or join the 20/20 Circle here.
"The 20/20 Fund is meant to be an asset for the community forever.  Our goal is to get to 250 members and to be able to award annual grants of $10,000 to the community," said Ms. Alexander. "I'm excited about the impact this group will have, year after year, granting much needed funding to organizations providing important services across the region."
Meanwhile, the team at CTC Manufacturing is already hard at work putting their new tables to good use.  Employees provide services such as packing, kitting, bundling or mixing products like assembly hardware, labels on products, and blister packs.  They have a van that provides transportation for employees to get to work, as well as another truck and two dock doors for deliveries.  In addition, CTC has a full-service sewing department providing branded apparel and materials.
"Odd jobs are us!" said Ms. Mayernik.  "It's typically a win-win situation to outsource the kitting and fringe work to CTC as we can do it for less, while still offering careers and job training to special needs clients that live in our community.  If you need any logo items or and kitting packing jobs, please call us – we want to keep our employees and new tables working!"
Learn More About the Four Finalists: