Lehigh River Watershed Fund
In 2019, the Lehigh River Watershed Fund was established to support all manner of conservation, education, and outdoor recreation pursuits for the benefit of the Carbon County region.
Education
Education to encourage a greater understanding of natural resources 
Ecological Restoration
Ecological restoration and maintenance projects for wildlife and human populations
Land Protection
Purchase or protect by other means land that is of high conservation value 
Remediation
Remediation projects to enhance water quality 
Access
Trail and access point improvements 
Collaboration
Projects should demonstrate their relevance within the context of community, municipal, regional, or other agency plans and illustrate engagement/support of the appropriate partners within the community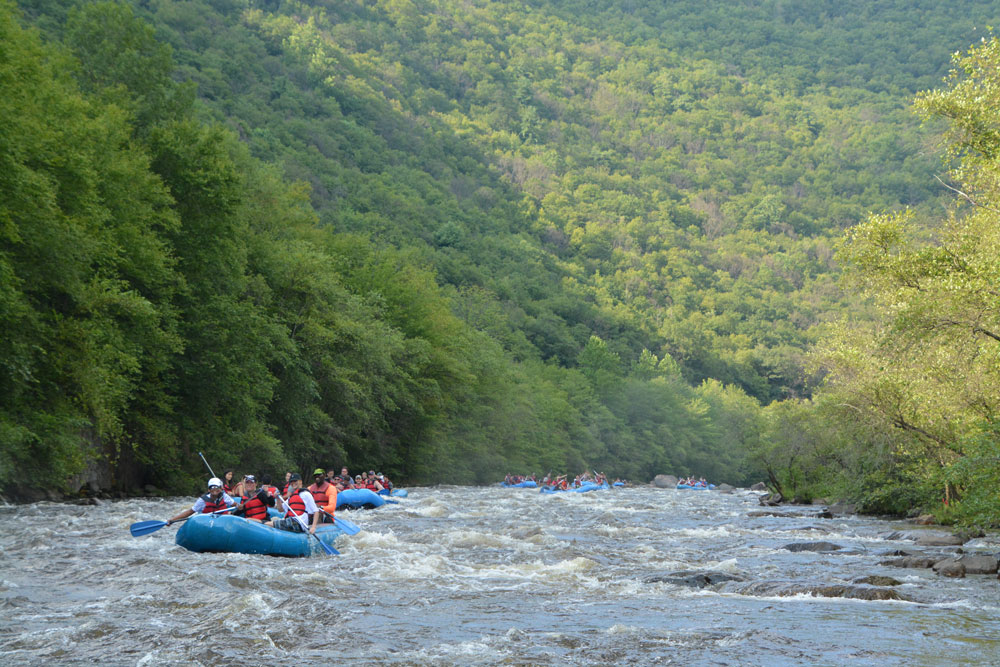 The four outdoor adventure rafting companies operating in the Lehigh Gorge have pledged their support and advice. We gratefully acknowledge the support of:
Waterway Restoration
Promote the benefits of dam removal and remove obsolete dams
Restore migratory fish passage from the Delaware to the Lehigh River
Promote the benefits of riparian buffers and incentivize municipalities to restore and protect their buffers
Build a treatment system at Quakake Tunnel to mitigate the impact of mine drainage
Install prescribed enhancements to Buck Mountain 2 and Lausanne Tunnel systems
Land Protection
Recommendations:
Protect the highest priority properties and establish more land trust preserves throughout the watershed
Secure remaining private properties along the Kittatinny Ridge
Promote collaborative projects that expand state parks, forests, and game lands
Promote economic benefits of smart growth and open space
Fund initiatives that promote sound stewardship on conservation easements
Habitat Restoration
Recommendations:
Educate the public about the state of and threats to our forests
Pursue land preservation projects that protect grassland habitats and encourage conversion from lawns to meadows
Expand programs that provide stewardship assistance to private landowners
Work with municipalities to foster habitat restoration and protection
Work with businesses to naturalize their landscaping and parking
Outdoor Recreation
Recommendations:
Expand and facilitate access to the Lehigh River Water Trail
Grow programs that promote the health benefits of getting outdoors
Promote link between environmental restoration and the growth of the outdoor economy
Educate the angling community about opportunities to improve fishing in the Lehigh basin
Build trails/greenways that function as wildlife corridors too 
THANK YOU!
Complete your donation to the Lehigh River Watershed Fund using the form below.  For other giving options, please contact the Carbon County Community Foundation at
1-855-545-1311
or
info@cccfoundpa.org
.
Lehigh River Watershed Fund