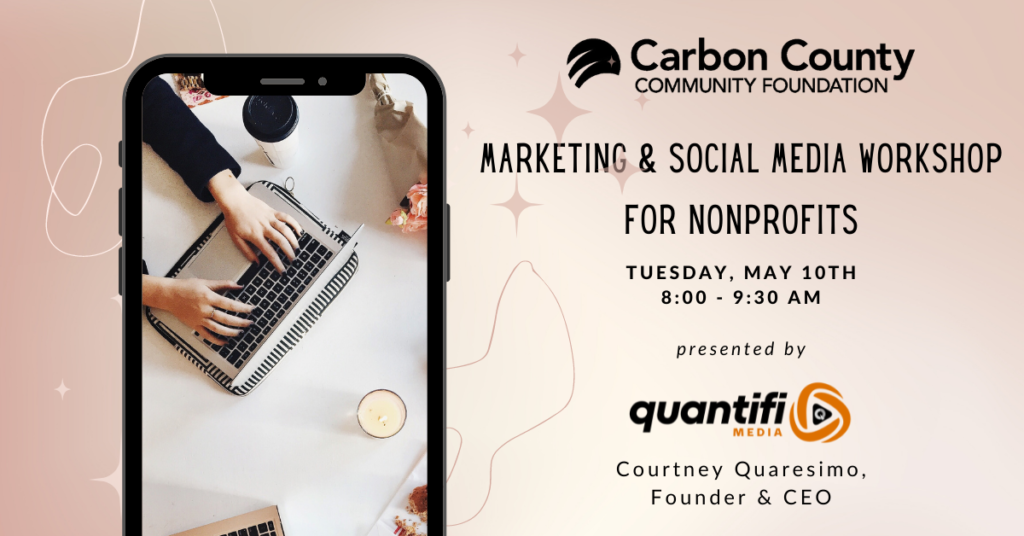 Join us for a FREE workshop to learn marketing and social media tips and tricks for your organization! 
Courtney Quaresimo, Founder & CEO of Quantifi Media, will share marketing and social media tips and tricks to help you best tell your organization's story.  She will also share recommendations for some free and low-cost tools you can use to better reach your audiences.
Tuesday, May 10, 2022 | 8:00 – 9:30 AM
St. Peter's Community Resource Center | 177 Main Road, Lehighton
Registration & Continental Breakfast at 8:00 AM; Program begins at 8:30 AM
About Quantifi Media
We stand out from the pack.  Small businesses contribute to local economies by bringing growth and innovation to the community. For the past decade, we've experienced the transition from traditional ways of doing business to a web-centric and data-driven economy. We've witnessed how businesses can sink or sail in this ever-changing digital world. The global interconnectivity of the digital landscape provides more opportunities than in your own backyard. Quantifi Media is a team of passionate digital marketers that will help you thrive so you can concentrate on doing what you're great at. Your time is valuable. Our industry experts will cater to developing an effective digital marketing strategy, creative design and development, reliable analytics optimization, producing story-driven content, and harnessing efficient performance management. This is why we get up in the morning.