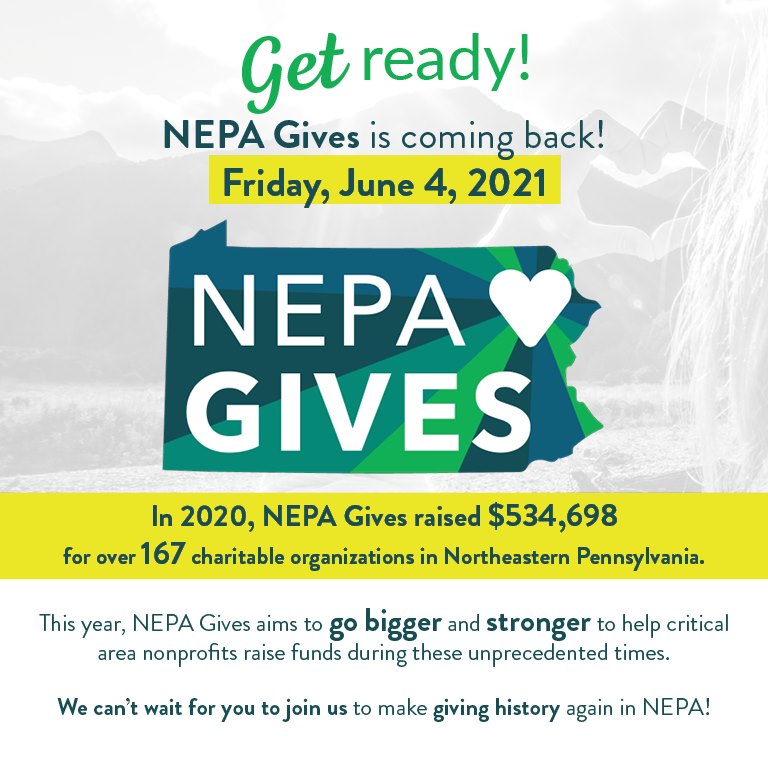 Join Us Online on Thursday, January 21, 2021 at 12:00 PM for a NEPA Gives Kickoff Meeting/Informational Webinar.
***Did you miss the virtual NEPA Gives Kickoff Meeting?  Don't worry, you can watch the recording HERE.***
During the webinar, we will share information about preparing for NEPA Gives 2021 and will give you the opportunity to ask your questions live.
The Carbon County Community Foundation and its fellow community sponsors* are pleased to host NEPA Gives 2021 – a one day giving extravaganza that's all about giving back to your community.
On Friday, June 4, 2021, donors may make secure online donations to their favorite local nonprofit organizations.  Donations to participating nonprofits will be enhanced with bonus funds provided by NEPA Gives sponsors – making donor dollars stretch further!  Nonprofits will also be eligible for additional cash prizes.
Registered 501c3 nonprofit organizations serving residents in Northeastern Pennsylvania will be eligible to participate in NEPA Gives.
NEPA Gives was a huge success in 2020 and we are thrilled to bring it back in 2021.  We will provide more information in the coming weeks, but hope you will consider attending the informational webinar on January 21st.
*2021 NEPA Gives Community Sponsors:
Carbon County Community Foundation
The Scranton Area Community Foundation
The Luzerne Foundation
Greater Pike Community Foundation
Wayne County Community Foundation
Northeastern Pennsylvania Nonprofit & Community Assistance Center (NCAC)