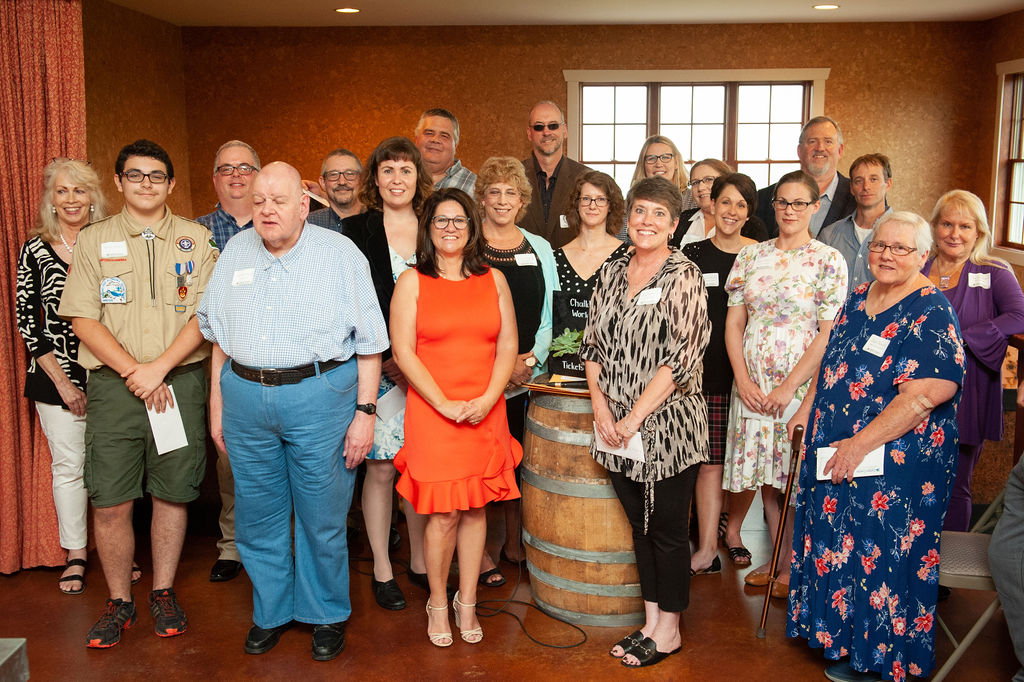 caption: Photo of the 2019 grant recipients with CCCF board chair Tina Dowd and executive director Amber Breiner. Scroll on for a full list of recipients and gallery of photos from the event.
The Carbon County Community Foundation continues to gain momentum and make an impact. At Galen Glen Winery on June 19, $11,500 in grants were awarded to sixteen nonprofit organizations serving Carbon County. Since 2016, the Carbon County Community Foundation has awarded more than $55,000 in grants in the region from the Fund for Carbon County, created by the organization's founders. Founders of the Community Foundation each pledged $25,000 to that fund and participate annually in selecting grant recipients.
Of the $11,500, $10,500 came from the Fund for Carbon County and $1000 was a grant awarded to CCTI's nontraditional summer camp program through funds donated by UGI under the Pennsylvania Educational Improvement Tax Credit program.
On the occasion of their 2019 grant awards presentation, the Foundation took the opportunity to encourage other community members to get involved in philanthropy to support the Carbon region. Steve Kresge, one of the Foundation's founders and a 20/20 Circle member, spoke at the event of how his involvement with the organization reminded him of his days playing basketball for the Lehighton Indians. "When all the players do their part and work together toward the common goal, it's a beautiful thing," said Kresge. "There is so much need and many ways to get involved…all you need to do is join the team."
The Community Foundation is still seeking founders, particularly from areas of the county currently lacking representation among their founding group. "We of course would be happy to accept founders from elsewhere, however, we have a particular interest in gaining new supporters from the Panther Valley area, the Jim Thorpe, Albrightsville, Lake Harmony areas, and the Weatherly and Beaver Meadows areas," said Amber Breiner, executive director of the Foundation.
Another vehicle for participation with the Foundation is to join the 20/20 Circle. Members of the Circle pledge a one-time $1000 donation to the 20/20 Fund. "The goal is to raise $250,000 to build an endowment fund advised by the donors, who will meet annually to award a $10,000 grant to a charitable organization seeking to better the lives of residents of Carbon County." Members of the 20/20 Circle will convene for the first time next year, in 2020, to award the first grant from that fund.
Additionally, community members may opt to use the Community Foundation to establish their own funds for any charitable purpose.
Carbon County Community Foundation is a 501(c)3 nonprofit organization that serves as an umbrella for many distinct charitable funds, offering them each professional expertise, time and cost savings, and greater impact achieved through working together. "While giving to our community today is an important part of what we do by distributing grants and facilitating donations, our goal is to manage funds as endowments to provide stable income for the causes that matter most for generations to come," said Breiner. "People who care about our region can make a difference and leave a lasting legacy by establishing or contributing to a fund at the Carbon County Community Foundation." 
The following community organizations were awarded grants from the Fund for Carbon County this cycle:
| | | |
| --- | --- | --- |
| Grantee | Award | Purpose |
| Palmerton Area Recreation Committee | $1,000.00 | Palmerton Summer Recreation Program |
| Jim Thorpe Rotary | $750.00 | Summer Recreation Program |
| St. Peter's Community Resource Center | $500.00 | Bare Necessities Pantry |
| Summit Hill Heritage Center | $1,000.00 | Summer Food Service Program |
| Grace Community Church/Panther Food Pantry | $1,100.00 | Refrigeration Needs |
| Family Promise of Carbon County | $1,000.00 | Family Promise of Carbon County – Building Community, strengthening lives |
| Shepherd House Inc. | $1,100.00 | Supplemental Food Distribution |
| The Pale Moon Players | $250.00 | A theater production for children performers, Disney's Mulan Jr. |
| Discovering Mercy | $500.00 | 12-Week Trauma-Informed Course for Community Counseling |
| Borough of Jim Thorpe | $500.00 | Park Pavilion Kitchens Refurbishment |
| Cancer Support Community of the Greater Lehigh Valley | $500.00 | Cancer Support & Education for Carbon County |
| Dimmick Memorial Library | $500.00 | Library preservation, modification, and materials and equipment upgrades. |
| Palmerton Area Library | $500.00 | Palmerton Library STEAM Lab/Maker Space |
| Lehigh River Stocking Association (LRSA) | $300.00 | LRSA Water Quality Monitoring Program Enhancement |
| Care Net of Carbon County | $1,000.00 | Operational support for a care center working with families |
The Carbon County Community Foundation was formed in 2015 with the mission to improve the quality of life for residents of the Carbon County region, now and forever. The Foundation exists to simultaneously be a philanthropic leader, a community resource, and a financial steward.
Carbon County Community Foundation's role in charitable giving is: 
to help donors realize their goals today and in the future
to improve the capacity of nonprofits to meet vital needs through grants and workshops
to facilitate opportunities for collaboration and innovation
to build resources and strengthen our community 
Learn more about the Foundation by emailing info@cccfoundpa.org or call 1-855-545-1311.