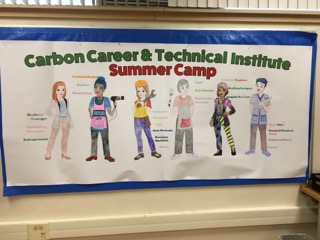 Carbon Career & Technical Institute (CCTI) opened its doors to younger students this summer when staff and faculty hosted the second annual Non-Traditional Occupations Summer Camp after two-year hiatus due to COVID.  Nearly 80 students in grades 6-8 spent eight days exploring and learning skills in the different areas at CCTI, including Welding, Drafting, HVAC, Cosmetology, Culinary Arts, and others.  
The purpose of the camp is to encourage more equitable enrollment among genders in career and technology education fields.  Each day, campers are assigned to explore a field where jobs are traditionally filled (more than 75%) by people of the opposite gender.  Current CCTI students assisted with the camp, mentoring and encouraging the younger students.
"Our instructors and staff taught nearly eighty Carbon County middle school students in multiple hands-on exploratory activities in various career and technical programs," said Brent Borzak, CCTI's Administrative Director.  "The students and their parents were very pleased about the outcome of the camp.  We finished the last day of camp with a small awards ceremony for the students."
The Non-Traditional Summer Camp at CCTI was partially funded with a $5,000 grant from the Carbon County Community Foundation through the Educational Improvement Tax Credit (EITC) program of the PA Department of Community & Economic Development.  Special thanks to UGI and The Neffs National Bank for contributing EITC funds to the Community Foundation to support this effort. 
About the EITC Program
Through the Educational Improvement Tax Credit (EITC) program, businesses earn tax credits by contributing to the Carbon County Community Foundation's EITC Fund.  Funds received are granted to the five Carbon County school districts and CCTI to support state-approved Innovative Educational Programs.
If you are interested in learning more about how you can make an EITC contribution, or if you work in a Carbon County school and want to see if your innovative educational program will qualify for a grant from the EITC Fund at the Community Foundation, contact us at info@cccfoundpa.org or call 1-855-545-1311.