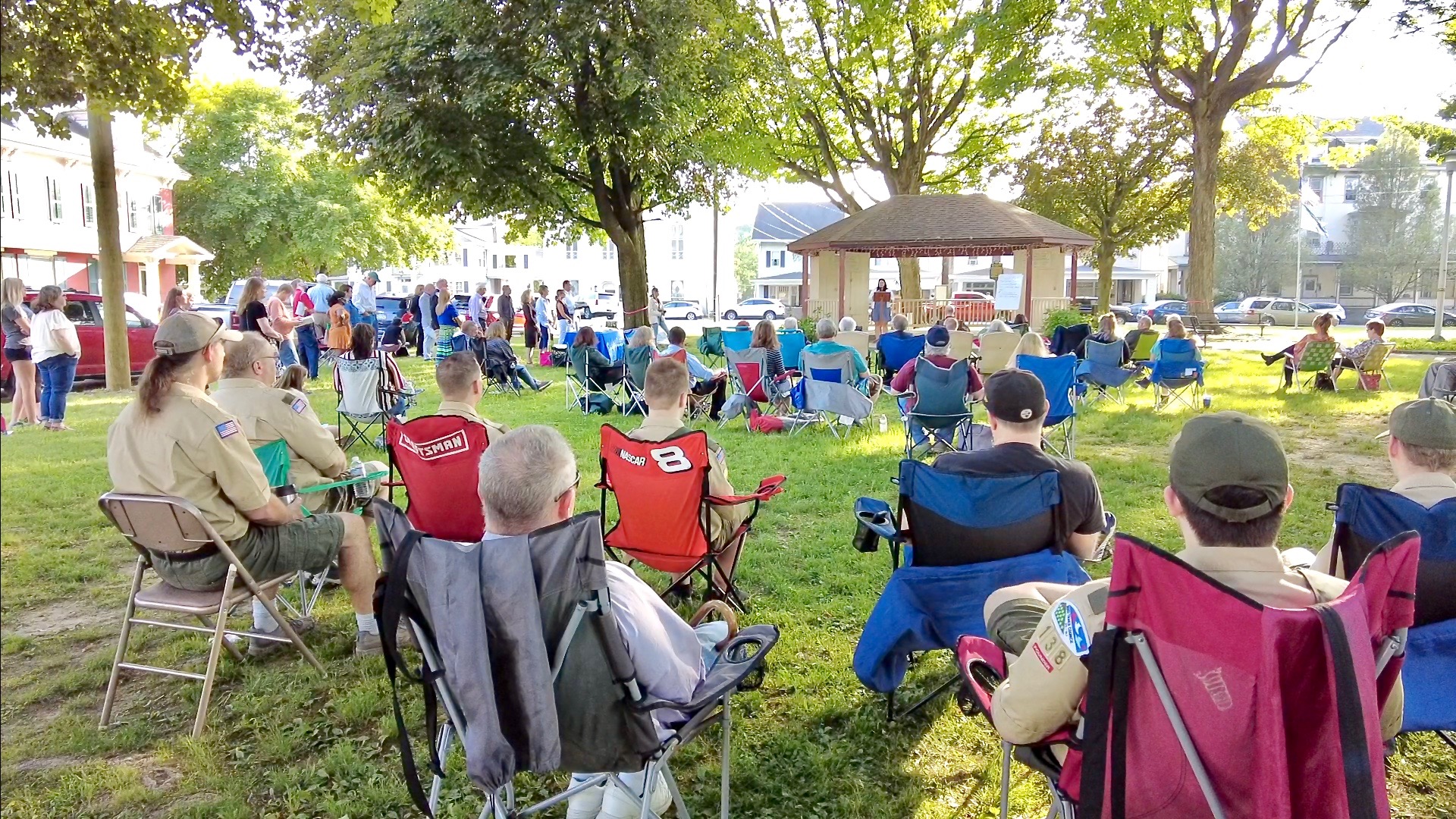 At an awards ceremony on Tuesday, May 25th, the Carbon County Community Foundation presented nearly $70,000 in grants to nonprofit organizations, community groups, educators, and students in the region.
Representatives from the Foundation and more than 30 community groups gathered in Weissport Borough Park for the celebration.  The majority of the grants were distributed from the Fund for Carbon County, the Foundation's primary unrestricted fund that meets the community's ongoing needs.  The CCCF Board of Directors and Founders annually review applications from area nonprofits and determine how the Fund for Carbon County grant money should be awarded.  This year, the Foundation accepted funding requests from nonprofits in early spring and received approximately 30 eligible applications.
"The organizations who applied this year all have incredibly worthwhile missions and projects," said Sharon Alexander, CCCF President.  "As you can imagine, it was a tough decision – we had a limited amount of money that we could award from the Fund for Carbon County.  As the Board and Founders were deliberating, several members recommended grants from their own Donor-Advised Funds at CCCF to cover some of the requests, enabling us to have a greater impact and support more organizations.  That's the incredible power of Community Foundations; we connect the people who care about Carbon County to the organizations and charitable causes who are working to make this community a better place."
Grants from the Fund for Carbon County supported a variety organizations and projects across the county, including several food pantries and shelters; a new HVAC system for the Lansford Historical Society; furniture improvements for the Penn Kidder Library; and the Palmerton Summer Concert series hosted by the Concourse Club.
Additional grants were awarded from the Penny Allison Early Childhood Fund, which provides micro-grants to educators and organizations offering early childhood education services; the Scouting Support Fund, which provides campership and program support for area boy and girl scout troops; the Educational Improvement Tax Credit Fund; and several Donor-Advised Funds.  Three graduating high school seniors from the area were also recognized for their accomplishments and were awarded scholarships from the Anastasia Susko Memorial Scholarship Fund, the Orioles Scouting Scholarship Fund, and the Tyler Strong Memorial Scholarship Fund.
"This has been a record year for us in terms of the money we are investing back into the community," said Ms. Alexander.  "The Foundation was established in 2015 and we gave out our first batch of grants in the fall of 2016 – approximately $8,000.  Now, just five years later, we are awarding $70,000, bringing our total to more than a quarter-million dollars in grants that celebrate and support the incredible and important work that is being done in our region."
The following community organizations were awarded grants from various funds this cycle:
| | | | |
| --- | --- | --- | --- |
| Fund | Grantee | Amount | Purpose |
| Fund for Carbon County | Behavioral Health Associates | $720 | Project No Drug Abuse |
| Fund for Carbon County | Cancer Support Community of GLV | $1,500 | Cancer Support Programming in Carbon County |
| Fund for Carbon County | Carbon County Catholic Worker Fund | $1,300 | Food pantry storage capacity |
| Fund for Carbon County | Carbon United Soccer Club | $1,000 | Field improvements |
| Fund for Carbon County | CareNet Carbon County | $1,500 | Program Support |
| Fund for Carbon County | Concourse Club | $1,000 | Palmerton Summer Concert Series |
| Fund for Carbon County | Dimmick Memorial Library | $1,500 | Furniture Improvements at Penn Kidder Library |
| Fund for Carbon County | Domestic Violence Service Center, Inc. | $2,000 | Emergency Shelter Expansion |
| Fund for Carbon County | Family Promise Carbon County | $2,000 | Shelter Guest Program |
| Fund for Carbon County | Free Shop Coaldale | $760 | Free Shop Coaldale Expansion |
| Fund for Carbon County | Lansford Historical Society | $1,500 | New HVAC System in LHS Museum |
| Fund for Carbon County | Lehigh Carbon Community College Foundation | $1,000 | SHINE STEM Summer Camps |
| Fund for Carbon County | Minsi Trails Council, Boy Scouts | $1,500 | Campership for Carbon County Scouts |
| Fund for Carbon County | Raising the House | $1,500 | Blaine House Backpack Program |
| Fund for Carbon County | St. Peter's Community Resource Center | $1,000 | Expansion of the Bare Necessities Pantry |
| Fund for Carbon County | Summit Hill Heritage Center | $1,500 | Heritage Park Improvement |
| Nothstein Hometown Proud Support Fund | Jacobs United Church of Christ | $3,000 | Beautification of Weissport Monuments & Historical Walks |
| Joseph & Debra Kay Bennett Fund | Wildlands Conservancy | $1,000 | Promotion of the Lehigh River Water Trail |
| Carbon County COVID-19 Community Support Fund | Miller Keystone Blood Center | $2,000 | PPE Items for Blood Donations |
| Scouting for Support Fund | Boy Scout Troop 138 | $900 | Campership for the troop |
| Scouting for Support Fund | Boy Scout Troop 790 | $700 | Campership for the troop |
| Scouting for Support Fund | Anthracite Scouting Organization | $500 | Building Porch Replacement |
| Scouting for Support Fund | Pack 63 | $800 | Campership for Troop |
| Scouting for Support Fund | Girl Scouts in the Heart of PA | $200 | Books for Girl Scout Troop |
| Penny Allison Early Chldhood Fund | Shawn Bierman/LB Morris | $500 | At-Home Learning bags |
| Penny Allison Early Chldhood Fund | Erica Chapman/LB Morris | $500 | Kindergarten Flexible seating |
| Penny Allison Early Chldhood Fund | St. Matthews Church Pre-School | $500 | Kindergarten Prep |
| Penny Allison Early Chldhood Fund | Panther Valley Elementary School | $400 | Grade 2 Phonemic Awareness |
| Penny Allison Early Chldhood Fund | Lehighton Area Memorial Library | $500 | Toddler Story Time |
| Penny Allison Early Chldhood Fund | Carbon County Catholic Worker Fund | $500 | Early Childhood Literacy Program |
| Orioles Scouting Scholarship Fund | Timothy Loftus, Jim Thorpe | $500 | Scholarship |
| Anastasia Susko Memorial Scholarship Fund | Alexia Pietkiel, Jim Thorpe | $1,500 | Scholarship |
| Tyler Strong Memorial Scholarship Fund | Lydia Wallace, Jim Thorpe ASD (Rider University) | $500 | Scholarship |
| Educational Improvement Fund | Panther Valley School District | $7,000 | STEAM Makerspace |